If you've ever dreamed about being a Disney Princess then this blog is for you! I've selected my top 10 favourite items from EMP's wide range of Disney Princess merchandise. If you see something on this list you like then click on the picture and it will take you the item on the EMP website. No matter what age you are, you can never have enough Disney Princess merch!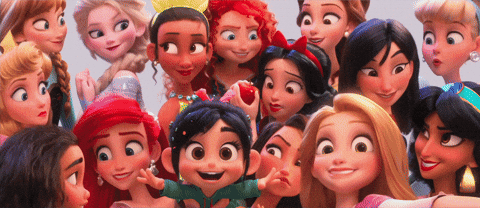 Starting off this list is a piece of jewellery that even Elsa would be jealous of. This Elsa Ice Crystal necklace from Couture Kingdom is plated with white gold and comes with an adjustable chain. It's so beautiful and will definitely catch the attention of your peers.
I don't know about you guys but I own a lot of scrunchies.  They're useful and super cute and this set of Snow White scrunchies are no exception. If you love Snow White then check out my previous blog where I take you through a step by step tutorial on how to achieve Snow White's iconic makeup look.
I always loved how beautiful Cinderella's carriage was and wished I had one of my own. Although this Funko Pop Carriage is a lot smaller than what I wished for, I still absolutely love it. This set comes with the carriage and two horses, all with incredible detail. Great for both children and adults.
With the weather being so hot at the moment, a swimsuit is an important part of your wardrobe, even if you are just sitting in a paddling pool in the garden. I absolutely love the deep red colour of this Beauty and the Beast inspired swimsuit and the rose detailing around the top and back is beautiful.
This backpack with reversible sequins is perfect for the people who can't decide between blue and pink, just like Aurora. It comes with adjustable straps and hidden details on the inside.
I know I'm not the only one who wishes they had hair like Ariel's from The Little Mermaid. This deep conditioning hair mask is all you need to get beautiful flowing locks like Ariel. Apply to towel-dried hair, leave it for around 5 minutes, rinse it off and then you're done.
If you've ever wanted to own a magic lamp, then this is the item for you. This tea set comes with the magic lamp pot and two glasses, each detailed with images of Jasmin and Aladdin. It's the perfect addition to any Disney Princess themed tea party.
This jean jacket is perfect for the Disney Princess lovers who have a rock chic style. This piece comes covered in detail, from the beading on the shoulder area to the print on the back and arm. It's definitely one of my favourites on this list.
If you're starting to arrange more social distanced gatherings with your friends, why not try out these face masks. Everyone can become a different Disney Princess and they leave your skin feeling super soft.
Last on the list is this beautiful Tiana prom dress. This dress is one of the six in the Disney Princess prom dress range at EMP. There are also dresses in the style of Cinderella, Rapunzel, Ariel, Aurora and Belle. I chose Tiana's one to be in my top 10 as I love it's soft green colour and the stunning silver waterlilies at the hem.
If you didn't see something you liked in this top 10 list then check out the wide range of other Disney Princess merch from EMP here.
Chloe Berrell